The Board of Livestock (BOL) held a conference call on March 17, to provide and update on Department of Livestock COVID-19 preparation.
The call included the BOL, along with Executive Officer Mike Honeycutt. MSGA also participated in the call to receive the updates and share information on the developing situation. 
Mr. Honeycutt stated that currently, the Department is operating at normal capacity. There are accommodations being made for employees affected by school closures or those employees that may be of a higher risk category.
In the last week, the Department has been working with the Governor's office on the Continuity Plan for the agency to continue to conduct business and address the recent developments. They have developed in the plan a number of "Priority 1 Functions," which include:
They have developed in the plan a number of "Priority 1 Functions," which include:
Maintaining livestock markets,
Continuing diagnostic lab tests,
Animal health import inspections, and
Inspections of meat and eggs
The Department will also be limiting travel and anticipate cancelation of in-person meetings, some of which will be changing to conference calls.
MSGA has been in constant contact with the Department as they share recent developments so we can disseminate important information to livestock producers across the state.
"It's important to get this information out to livestock producers across the state and remind them of the necessary steps that should be taken to keep our ranch family safe," said Jay Bodner, MSGA Executive Vice President.
On the call, there were no notifications of any cancelations of regularly scheduled auction market sales or upcoming bull sales. 
The Livestock Marketing Association has said they will continue to take steps to keep markets open and operating as a critical part in the food supply chain. They have laid out some measures to take to mitigate disease spread at lmaweb.com/covid-19
Public Auction Yards in Billings, Montana, has said they plan on continuing to have sales but have asked people to minimize the time they spend at the market and in the sale arena. Sales are also available to view or bid through online avenues. You can find their statement regarding COVID-19 at publicauctionyards.com
"We're taking this situation very seriously and working with our state and national partners to reduce any lasting impacts on our markets," said Bodner.
While the situation is evolving each day, everyone can take simple steps to limit the spread of COVID-19:
Practice good hygiene—cover your coughs and sneezes, and make sure to wash your hands frequently with warm water and soap.
Stay home if you're sick.
Put some distance between yourself and others. This helps protect you and folks who may be at a higher risk of getting sick.
Avoid gatherings of 10 or more people.
If you're over the age of 60 or have pre-existing health conditions, avoid large gatherings altogether.
MSGA will continue to monitor this situation closely and provide updates as they become available.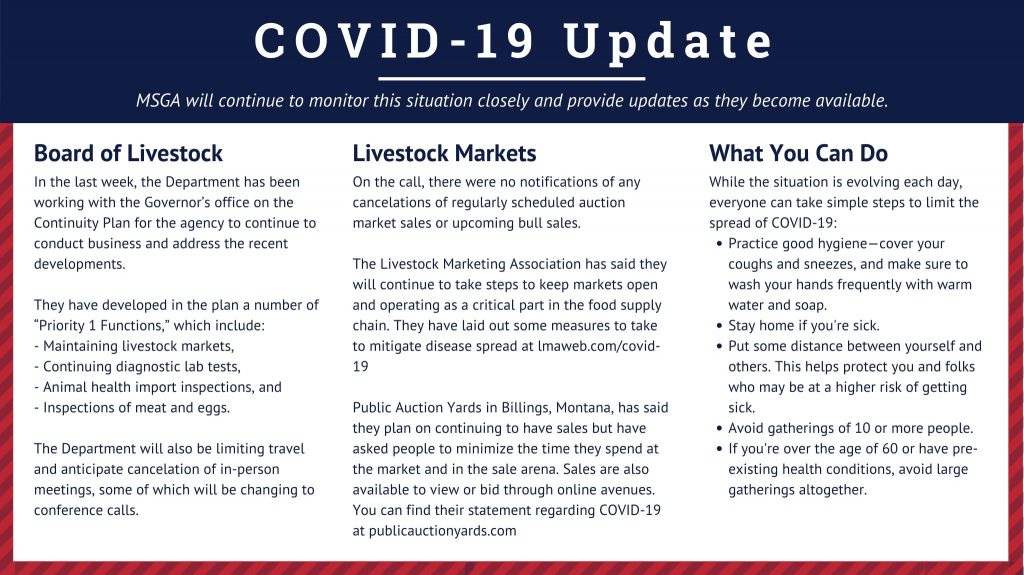 ---
CONTACT:
Keni Reese
Director of Marketing & Communications, MSGA
406-603-4024
keni@mtbeef.org
To view more MSGA news, visit https://mtbeef.org/news/