TOWNSEND, Mont. — Continuing the focus on expanding Montana's agricultural contribution to international trade and highlighting the diversity in Montana's agricultural ecosystem, Director Clark and representatives from the Montana Department of Agriculture (MDA) visited Ehlke Herefords in Townsend, Montana to welcome a delegation of cattle producers from Chile as part of a Montana Department of Agriculture Cattle Genetics Trade Mission.
Mark and Della Ehlke are first generation Hereford seedstock producers. Before getting their registered Hereford operation started, they had a handful of commercial cattle in Helena, MT. After serving as a commercial judge at the MHA Winter Fair sale in Bozeman, Mark bought the families' first registered Hereford heifer, marking the official inception of Ehlke Herefords.
Ehlke Herefords has been able to make extensive advances to their genetics and have increased the size of their operation multiple times through the retention of quality replacements, infusion of outside genetics, a focused use of AI and ET, and the addition of owned and leased grass.
"Livestock producers from around the world come to Montana seeking our high-quality beef genetics. This specific group of Chilean cattle producers have been traveling the state for five days thus far, getting a detailed look into Montana Hereford and Angus ranches producing some of the top genetics available. Ehlke Herefords is a great example of the passion and commitment for genetic progression this state has to offer," Director Clark said.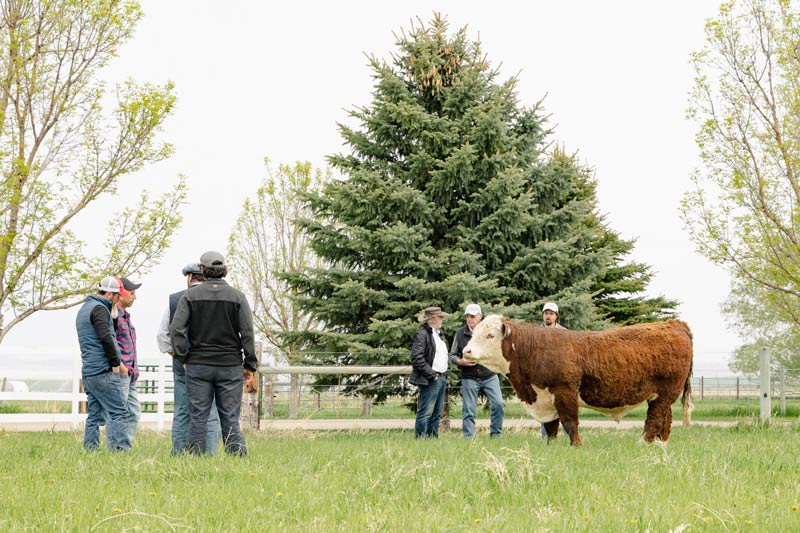 Thank you to Ehlke Herefords for hosting the visit and giving a look into a family-owned operation here in Montana adding value to the ag ecosystem that drives the state's number one industry.
---
The Montana Stockgrowers Association (MSGA) hosted the group for dinner on Wednesday, May 17 to discuss the Montana cattle industry and how MSGA members, such as Ehlke Herefords, are continuing to make strides for the betterment of the Montana cattle. MSGA Second Vice President, Turk Stovall, also met with an Argentinian trade delegation in Billings earlier this month.