BILLINGS, Mont. (December 8, 2022) – Montana Stockgrowers Association (MSGA) hosted day two of the Annual Convention and Trade Show. Attendees gathered at the Opening General Session, Stockgrowers Colleges, Northern Ag Network and Best of Beef Lunch, Tax, Finance and Ag Policy Committee, and the Trade Show Celebration Dinner.
The day started with the Opening General Session, sponsored by Montana Livestock Ag Credit, where members heard updates from the Montana Stockgrowers Association (MSGA) leadership, Montana Public Land Council (MPLC), Public Land Council (PLC), Montana Stockgrowers Foundation (MSF), Montana Cattlewomen (MCW), American National Cattlewomen (ANCW), and Montana Beef Council. Keynote speaker Troy Applehans of CattleFax, sponsored by Yellowstone Cattle Feeders, gave attendees a look at the future cattle markets, noting optimism in the cattle markets in the next year.
The morning was then filled with Stockgrowers Colleges where attendees were able to dive deeper into topics ranging from financial planning to rangeland solutions. Each session gave attendees an inside look on a different topic in the beef industry.
The Northern Ag Network Best of Beef Lunch, sponsored by Northwest Farm Credit Services, opened with remarks from Montana State University (MSU) President, Dr. Waded Cruzado. Todd Olson, of Lewistown, was drawn as the winner of the Nutra-Lix saddle raffle. Awards were then presented to the Steer of Merit and Cattle Drive winners. To close, attendees heard from Ethan Lane, Vice President of Government Affairs at National Cattlemen's Beef Association (NCBA), about the political climate on Capitol Hill, the farm bill, and legislative outlook for 2023.
MSGA members continued policy discussion during the Tax, Finance & Ag Policy Committee along with updates from the Montana Department of Agriculture and the Rancher Stewardship Alliance. Members voted to pass policy to support legislation to reclassify land taken out of production agriculture practices to compensate counties for the loss of production agriculture economic activity.
The day concluded with the Trade Show dinner, sponsored by Producer Partnership, Tractor and Equipment Supply Co., and Envu, where attendees explored the trade show and networked with other industry professionals. Tomorrow, MSGA's Annual Convention will conclude with General Session II, Presidents Lunch, and the Grand Finale Banquet. Registration will be available at the DoubleTree Hotel December 8-9.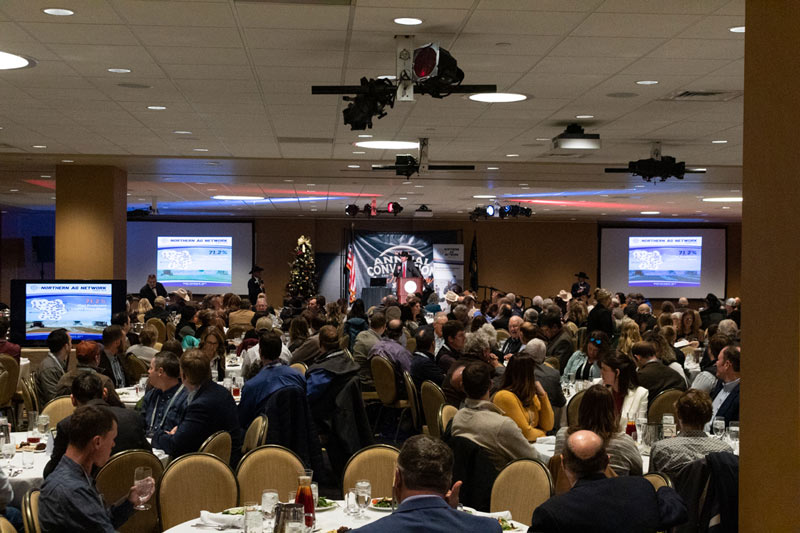 ---
The Montana Stockgrowers Association is a grassroots membership organization and is the trusted voice of cattle ranchers. With a 135 year history, MSGA advocates and ensures cattle ranching remains relevant, safe and a sustainable way of life for generations to come.
CONTACT:
Keni Reese
Director of Marketing & Communications
406-442-3420
To view more MSGA news, visit https://mtbeef.org/news/