On April 17, 2020, U.S. Department of Agriculture (USDA) announced the $19 billion Coronavirus Food Assistance Program (CFAP) to support farmers and ranchers during the COVID-19 pandemic.
The program includes $16 billion in direct payments to farmers and ranchers including $9.5 billion of emergency funding from the CARES Act and $6.5 billion of funding from the Commodity Credit Corporation (CCC).
Of the $19 billion, $5.1 billion has been allocated for cattle producers to partially offset 2020 losses due to COVID-19. Producers will receive a single payment determined using two calculations:
Price losses that occurred January 1-April 15, 2020. Producers will be compensated for 85% of price loss during that period.
Second part of the payment will be expected losses from April 15 through the next two quarters and will cover 30% of expected losses.
The payment limit is $125,000 per commodity, with an overall limit of $250,000 per individual or entity. Qualified commodities must have experienced a 5% price decrease between January and April. MSGA efforts have been to ensure this program will be of assistance to cow-calf producers in the state.
Although CFAP still has to be approved by the Office of Management and Budget (OMB), the program is expected to begin sign-up in early May and producers could possibly receive payments by the end of May or early in June.
MSGA will continue to update our members on important information regarding this program.
For more information, please visit usda.gov/coronavirus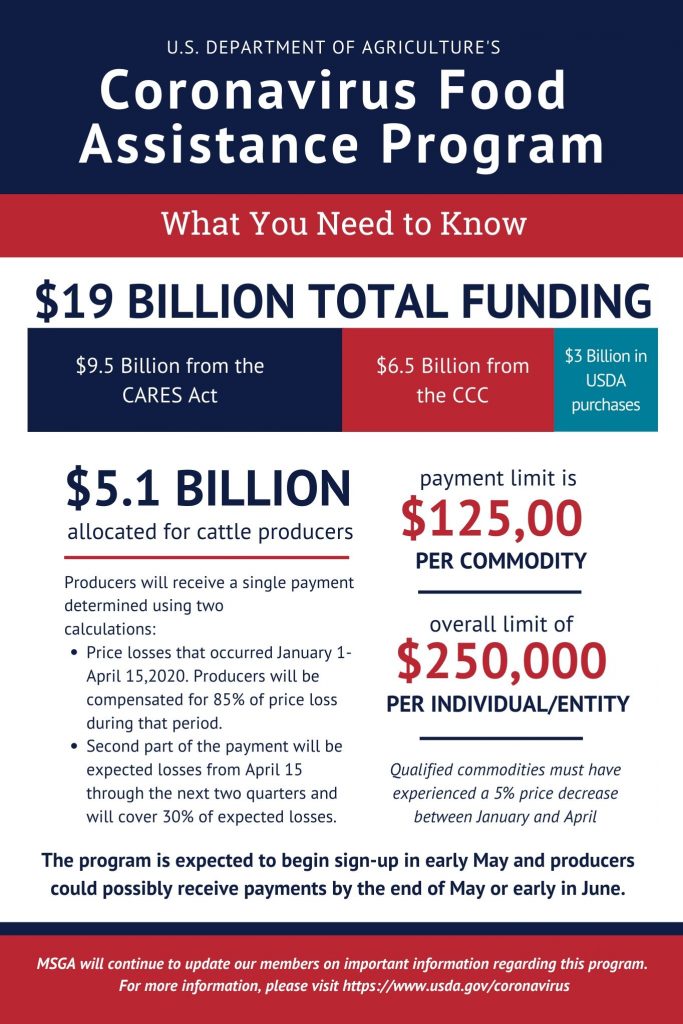 ---
CONTACT:
Keni Reese
Director of Marketing & Communications
406-603-4024
[email protected]
To view more MSGA news, visit https://mtbeef.org/news/